Emma Tyson (Sw Yogeshwarananda) conducts, Classes, Instruction/Training Sessions, Programmes and Workshops in Yoga, Meditation and Yoga Therapy for the benefit of beginners to advanced.practitioners. She offers Healing/Energy Work Sessions, Personal Energy Session and Healing Workshops.
about yoga
Emma Tyson (Sw Yogeshwarananda) has been guided and trained by an Enlightened Spiritual Master for over 28 years. She has learnt to become a clear channel to bring a deeply transformational energy and quality into her sessions/classes. Coming from a traditional lineage you will experience Yoga at its most authentic and original, with its focus on developing self awareness, leading to self transformation and self realisation. As well as offering general Yoga Classes Emma also uses her experience to suggest very specific yoga and or meditation practices for you, and can create a practice or sadhana for you to do peacefully in your own space, and on a regular basis. This enables you to truly experience, understand and gain the benefits of Yoga, and help you develop and transform on all levels according to your need. She therefore specialises in personal instruction/training sessions and small private groups.
The style of Yoga taught is from the Satyananda/Bihar Yoga tradition, which is a system of Yoga developed by her Guru Paramahansa Satyananda Saraswati and his lineage, one of the most recognised and respected in India, his Guru was Swami Sivananda.
The Satyananda approach and its practices are derived from ancient and traditional sources adjusted and developed to the needs of modern man. It includes all aspects of Yoga such as Hatha, Mantras, Karma, Kundalini, Kriya, Jnana, Swara, Bhakti Yoga and more.
Hatha Yoga - focuses on simple yoga exercises and more advanced Asana for more direct physical benefits with Pranayama for those interested in a more subtle way to work on the body and mind, using breath to stimulate and alter subtle energy flow and its quality. Mudras, mostly hand positions that alter and re-direct subtle energy flows and Bandhas, specific contractions/locks that stimulate energy flow in specific organs and chakras.
Meditation - most importantly helps to settle and calm the mind, awakening potential and consciousness, pointing us to the recognition of the nature of the body and mind and our true nature through self realisation.
Mantra, Kundalini and Kriya - are more intense practices to develop a deeper awareness of the more subtle energetic dimensions of the body -mind experience to awaken energy, consciousness and potential.
Practitioners are particularly encouraged to learn about all dimensions of their body mind experience and its potential through the many aspects of Yoga.
more information
about healing
Emma offers Healing and Energy Work. She is a qualified and experienced Practitioner who has been professionally trained to be sensitive to the different energy systems of the body mind experience. She has spent many years learning to know and understand her own body, mind, subtle energies and chakras through regular meditation, yoga and other self awareness and development practices and techniques and intensive training. She is able to sense areas of dense, blocked or dissipated energy be it physical, mental and emotional in your energy systems and help to clear, and restore balance and energy flows. More deeply her healing work can release and clear deeper mental and emotional energy patterns, be it your own, or other peoples, rebalancing your chakras and subtle energy bodies, grounding to bring clarity and an unfolding of deeper self awareness, confidence and purpose. She also gives training to develop awareness of your own energy, learning how to strengthen and maintain your own experience. She is also very experienced in working with mental, emotional and spiritual crisis.
More Information
about emma
Emma L Tyson (Swami Yogeshwarananda)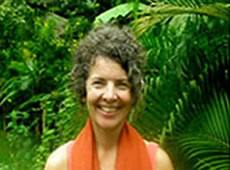 is a qualified Lawyer, Yoga Teacher and Complementary Therapist/Spiritual Healer. She has practised yoga for 29 years and been teaching yoga for 25 years. She has been healing for 18 years. Initiated as a Sannyasin 28 years ago by Paramahamsa Satyananda Saraswati , she spent time in her Gurus ashram, the Bihar School of Yoga, practising intensive sadhana. With dedication, intense personal practice and then practising the Kriyas she experienced an awakening. Guided by her Guru, this took her into subtle energy work to learn about her own energies, to heal, integrate, balance & ground from this experience. She lived full time & trained for 7 years in a Spiritual Community & Healing Centre/ashram in the UK. She worked as a healer, counselor, yoga, dance & massage therapist. She became qualified & registered with the British Register of Complementary Medicine as a Healer/Counselor & Massage Therapist and is now a Senior Practitioner & is recognized as a Yoga Teacher, Dance & Movement Therapist & Crystal Healing Therapist & Teacher. She is also Full Healer Member & Teacher of the National Federation of Spiritual Healers.
Her training & experience has made her very sensitive & aware of the subtle energy of the body mind & the many effects of different yoga practices and other spiritual practices, she can help you develop and deepen your own sensitivity, knowledge and experience to give further dimension & understanding to your yoga practices or other spiritual practices & yourself. If you are not interested in Yoga she is able to help you experience and learn to work with your own energies for self healing simply using Meditation type practises and techniques.
More Information
Benefits - Yoga And/Or Healing
Throughout our lives we have many experiences which affect our bodies & our minds naturally creating thoughts & feelings. If we are uncomfortable with these thoughts and feelings it can then create tension in the body mind unbalancing the natural flow of mental, emotional & physical energy within us.
For example; our work may be physically, mentally & emotionally demanding causing stress & tension, our relationships may be difficult & painful making us unhappy & tense & we may dislike the circumstances of our life. Having no recognition of truth & the nature of the body mind experience, we feel frustrated & unfulfilled.
The effect of such tension can manifest itself in the physical body in the form of physical illness such as muscular pain, skeletal problems, skin disorders, neuralgia, asthma, cancer, ME, arthritis, menstrual problems etc. It can also be experienced mentally & emotionally as anxiety, depression, lack of confidence & self esteem & mental & emotional breakdown.
All this influences the way we feel about ourselves, how we interact & relate with other people, & ultimately how we enjoy & experience this life.
Through the practice of Meditation, Yoga, Self Healing, real recognition of love, peace, & happiness as the truth of our very nature, & what is natural for this body mind experience unfolds and this transforms how we relate with ourselves & others.
Once we begin to awaken to this recognition naturally we begin to unburden ourselves of the conflicts in the mind that can create stress, illness & disease & then true 'healing' takes place in each experience of our being, the mental, the emotional, & the physical as our energies begin to flow more freely & balance is restored.
Furthermore more profound changes can take place as we begin to know the 'roar' that comes with the recognition of the true nature of this body mind experience & the truth of who we are, we are clear, confident & positive & this is the power that transforms the experience of this life.